Sunday Service Times:
9:15 a.m. and 11:15 a.m.
Details below
What To Expect
 WELCOME
Thanks for your interest in our Sunday meetings or "services" (church term), which are open to anyone and everyone! Typical Sunday services include time before and after for us to get to know each other (church term: fellowship), a band to lift our spirits and get us focused on Jesus (church term: worship), and someone sharing a helpful, challenging message (church term: sermon).
People from all different backgrounds, countries, and life stories love coming here—kids too—and there's usually anywhere from 200-600 people at each service. It's a laid back, accepting environment, perfect for learning about Jesus and the amazing life He has for us.
 THE BASICS
The formal part of Sunday services lasts about 60-75 minutes. Lots of people come early and stay late.
If you're worried about what to wear, don't be! Come however you feel comfortable – whether shorts and sandals or shirt and tie, it's all good.
As you're coming in, a greeter will welcome you with a smile. Ushers are available to help you get your children signed in for Kids Church (if you've brought children) and help you to a seat. There's free coffee in our Church Foyer (off the parking lot on the north side of the building) and you can also visit the Connect Center there if you have any questions.
TIMES OF SUNDAY SERVICES
Regular Schedule

Summer Schedule

Early Service
9:15 a.m.

Late Service
11:15 a.m.

One Service Only
9:15 a.m.

Canada Day weekend to Labor Day weekend


Note: On special occasions such as Christmas and the Global Impact Celebration weekend, our Regular Schedule may be suspended to allow for a single service. Please check our Events Calendar.
LOCATION & PARKING
You can find our church at 2202 8th Ave. N., just behind (east of) the Northgate Mall. (See the map at the bottom of this page.)
Parking: It's best to park in the big parking lot on the north side of our building. There is visitor parking just across from the north side of the building; the doors in the middle of that side are the main church entrance.
 DIRECTIONS…
Travel on Albert St. to 9th Ave. N.
Turn east on 9th Ave. N. and continue east all the way past the north end of the Northgate Mall to the lane/alleyway just east of Lorne St.
Turn south (right) into that alleyway and go south for half a block or so.
Turn east (left) into Harvest City Church's north parking lot. There is visitor parking just across from the north side of the building; the doors in the middle of that side are the main church entrance.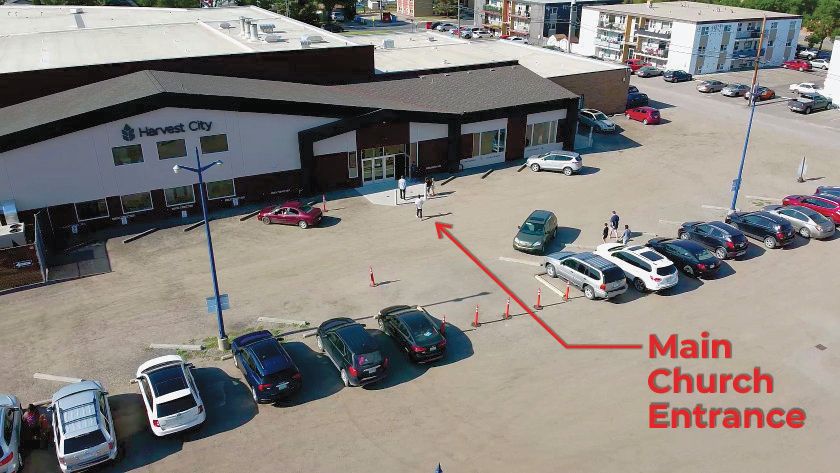 How Our Sunday Services Go
Normally everyone starts out together in the main auditorium. In the summer, though, if you're bringing children please ask when you sign them in whether they should go directly to Kids Church.
 MUSIC
Things get started in the main auditorium with some live music to celebrate and remember what God has done for us. It's not exactly a quiet affair, with electric guitars, drums and lots of other instruments, but we keep the volume safe.
If you've been to other similar churches, you'll recognize songs from artists like Hillsong, Jesus Culture, Matt Redman, Passion, etc. (You can YouTube them if you'd like samples.) There's also lots of songs we've written, as well as some traditional hymns.
Regardless of the song, it's always about taking our focus off all the distractions of life and putting it on God.
 KIDS (AGES 0-12)
Our number one priority with kids is to keep them all safe. With that in mind, children who will be attending Kids Church (church term: Sunday School) need to be checked in when you arrive at the church. The check-in kiosk is found in the Church Foyer, just across from the main, north entrance. You'll need to let us know about allergies, medical conditions, and other important information. Assisted check-in is available from 15 minutes prior to the service start time through to the start of the service. Self check-in is also available using our mobile app. (If you want a head start on first-time check-in, just click the "Kids Form" button below.)
To find where to take your children, be sure to pick up the brochure, "Harvest City Kids Sunday School – What You Need to Know" when you sign your child in (or view/download it below). It includes a map of the Sunday School classrooms.
Activity bags are available at the sign-in kiosk for children who remain with their parents in the service. There is also a nursing room available and some supplies for little people in diapers if there's an emergency… (we've been there).
From September to June the kids get dismissed to Sunday School pretty much right after the music ends.
For July and August Sunday School begins at 9:15 a.m. sharp. Grades 1 to 6 meet in the Library on the Second Floor. The Toddler and Kinderchurch classes are in the preschool area (west wing of the First Floor). The Nursery is available for infants as soon as they are checked in.
We have trained teachers for every age from newborns up to age 12. The kids are grouped according to age to keep the content relevant, so you can rest assured they're having fun and learning.
 GREETINGS, ANNOUNCEMENTS AND GIVING
There's usually a couple minutes after the music ends for people to say hi to each other, followed by a few minutes of announcements to let everyone know what's going on in the Harvest City community. During the announcements, we give people opportunity to give to the church and its outreach programs, but there's absolutely, positively no obligation for you to do so.
 THE MESSAGE
Next up is the speaker for the day. Most Sundays the speaker is one of the pastors or leaders at Harvest City, but we mix guests in, too. Our goal is Sunday messages that are solid and biblical, yet very relevant, clear and understandable whether you have church experience or not. We usually put the Bible quotes up on the screen, so it's okay if you don't have your own Bible (if you'd like a great free one for your phone, click HERE).
We think the people speaking are pretty engaging because they're really authentic (sometimes to a fault) and God honours that by giving them an extra dose of inspiration.
 PRAYER & MEETING THE PASTOR
At the end of the message there's usually an option to have someone pray for you if you'd like. You shouldn't feel pressured at all, but if you want to respond to what was spoken in the message or if you have any need whatsoever, come on up. Over and over again we've seen God's faithfulness to answer prayer. You don't have to be specific about what you need prayer for if you don't want to.
You are always more than welcome to come and talk to the speaker or any other leaders if you have questions or would just like to chat.
 AFTER SUNDAY SERVICES
When the meeting is over, feel free to strike up a conversation with someone around you, stop by the information tables, come schmooze over free coffee in the Church Foyer, or head for the Connect Center in that foyer for answers to questions.
It can be intimidating coming to a big church, but we trust you'll find the Harvest City community warm and friendly as you get to know us better.